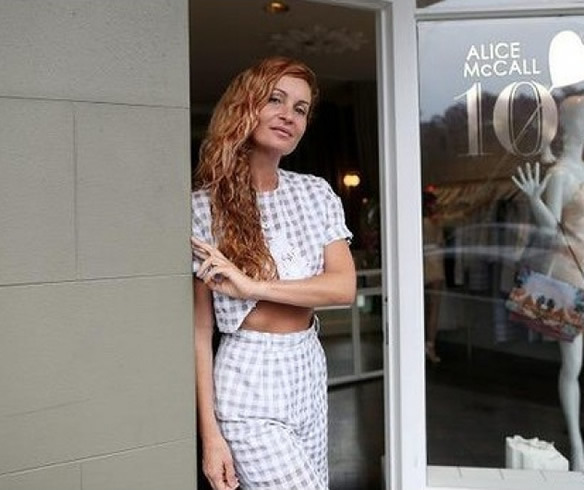 Alice McCall recently celebrated the 10-year anniversary of her eponymous fashion label, famed for its delicately detailed dresses and thigh-skimming playsuits. The designer attributes the brand's longevity in a tough retail climate to her strong creative vision. "There's so much social media out there that it's easy to be coerced into a different direction," says McCall. "But it's remembering to come back to what's in yourself [that's important]. For me, it's my love for something a bit whimsical but still modern."
The Darling Point resident got her start in the fashion industry in London, building a celebrity styling career that saw her working with Natalie Imbruglia, Kelis and Destiny's Child. She settled back in Sydney in 2002, in what she says was a welcome return, for a short stint working at Sass & Bide before launching her own label. "In London you go through immense highs and lows. As a freelance worker, at one time I might be on a private jet flying to do a big styling job, then next I might be counting pennies to get the Tube. I did miss Australia at the end, definitely".
You opened your first store in Paddington. What do you like about the area?
I take my hat off to Theo [Onisforou], who's got the conglomerate in Paddington. He's done a wonderful job in keeping that village feeling alive. Obviously it's so easy to go to shopping centres, but I think there's something to be said for your local shopping precinct. The history and character that you get when you actually have shopfronts on the street is lovely. I think it should be preserved.
As an ex-stylist, where are your secret shopping spots?

I love going to the auction houses, [like] Raffan Kelaher & Thomas [in Leichhardt]. They do vintage lace sales three times a year, so you get these amazing deceased estate doilies. You get the Victorian stuff and you can find some amazing things from the '20s. And out past the airport [you can find] architectural salvage [Heritage Building Centre in Rockdale]. We bought amazing Parisian gargoyles and big urns and these fantastic wrought-iron four-metre tall doors that we've installed into our office. I love the idea of fitting an antique piece into a modern environment.
What retailer can you never walk past?

Mecca [Cosmetica in Paddington]. Your senses are so important, especially as a creative person, so I always love to have a divine Diptyque candle burning. I was there just a couple of days ago, I got the Diptyque fig [candle].
Where's your favourite place to buy flowers?

I think it's wonderful to go to Bondi Markets to stock up and also the Kings Cross Market. I love a good quality rose, and you can tell a good quality rose because it's got that really heady smell, especially when it's slightly on the way out and becomes more pungent.
Where do you go for homewares?

I love Jardan [in Rosebery] and the wonderful Charlie Hinckfuss, his furniture shop in Surry Hills [MCM House] is absolutely amazing. With your sofas and your dining room tables you need to spend money. It's better to do that and get something you can pass on to your children.
How do you relax?

I'm into yoga at the moment because it keeps me grounded. I do secretly go off from work and get a lunchtime yoga in. I go to BodyMindLife in Surry Hills. When I'm feeling a little bit like the wheels are coming off, that is what gets me back on track. The focus and physical strength you get from it help you to be an organised, efficient, happy person.
Where is your favourite bookshop?

Kinokuniya [in the city]. At the beginning of every season, I go there to get inspired. My label is largely graphic based, so I'll go there with my designers and we will spend a couple of hours not talking to each other just looking at books, whether it be 1920s jewellery or 1940s tea sets or whatever. And sometimes from spending time there, we'll get a direction for a collection.
What's the last book you bought there?

There's a very unusual artist [Henry] Darger, he drew these repetitive drawings and there's a naiveté [to his work]. You know sometimes how you look at children's drawings and they're so free that they're almost genius? He's got that. His sense of colour I'm drawing upon at the moment, his use of dusty pastels but framed with black lines. I just picked up his book.
What's the last art exhibition you saw?

Dale Frank [at Roslyn Oxley9 Gallery in Paddington]. It was wonderful, because he's got very much his style and you recognise his art, but he's evolved with his use of iridescence. He's now painting on mirror, which is adding this other layer to what he already does. I was contemplating investing in one, because I do love them.
What's a good restaurant for a special occasion?

China Diner in Bondi. It was my birthday [recently], I turned 40 and I was out for dinner with [fellow designers] Kirrily [Johnston] and [Kit] Willow. It's modern Chinese, so you've got dumplings, Asian fusion salads, great cocktails. I'm often catching up with those girls.
So the fashion industry in Australia isn't cutthroat?

Not at all. With my dear friends we help each other, to be honest. We kind of mentor each other and there's no competitive streak. It's a nice thing, because who better to talk to than someone who's experienced what you're experiencing, but from a slightly different angle?